Early Pilots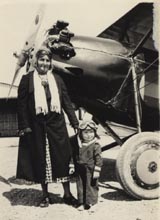 Unidentified woman pilot


On March 8, 1910, the Aero-Club de France granted pilot's license number 36 to Elise Deroche the first ever awarded to a woman. Deroche, who called herself the Baroness Raymonde de la Roche, was the daughter of a plumber. She later became an actress and a sculptress and was once described as "flamboyant."

Deroche was an excellent aviatrix who had discovered the thrill of piloting only six months before, in a Voisin twin-seater. A decade later, in June of 1919, she set a women's record for altitude by climbing to 15,300 feet. Shortly afterward, hoping to become a test pilot, she copiloted a new aircraft. She was killed when it crashed.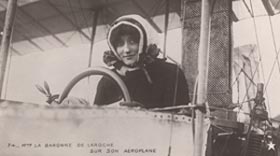 Baroness de la Roche
Blanche Scott was the first American woman to fly solo in 1910. Despite a general prejudice against women in aircraft, she had been allowed to take lessons by Glenn Curtiss, who built a plane, but she had never been able to get it into the air.
One day, she learned why when she discovered a small piece of wood, wedged against the throttle lever. She removed it and voila! The plane flew about 40 feet and then landed. Curtiss was so angry that he ordered her off the field and never taught another woman.
Scott became a stunt pilot. One trick was the Death Dive, where she dropped 4000 feet and then pulled up within 200 feet of the ground. After several friends had been killed, she decided to quit while she was ahead. She retired in 1916, before she was thirty. However, before her death, she had a chance to fly in a jet with Chuck Yaeger.
Bessica Raiche held license number 1, since Blanche Scott flew for years before getting a license. Raiche, too, flew in 1910 and later built planes. However, she retired from flying after being told that cloud air was bad for her lungs. She moved from one nontraditional activity to another, because her next career was to became a doctor.
In her trademark purple satin flying suit, Harriet Quimby was the first American woman to earn a pilot's license. An actress and writer, she wrote hundreds of interviews, travel pieces, how-to articles, and features. Later, she even wrote seven screenplays for D. W. Griffith.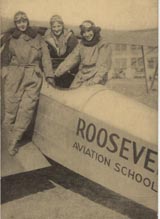 In 1906, she took a trip in a speedy car for an assignment, and then quickly bought one for herself. Four years later, she attended an aviation tournament, and she was hooked. She attended flight school, earned a license, and soon became known as the "Dresden China Aviatrix." Dressed in satin, she flew in exhibitions and hatched a plan to be the first woman to fly across the English Channel.
A man, Louis Bleriot, had accomplished this feat in 1909 and had won wide acclaim. Harriet's record-breaking flight took place on Tuesday, April 16, 1912. Unfortunately, the Titanic had just sunk, so the papers were filled with that news. Her Channel crossing went largely unnoticed.
In July of the same year, she appeared at the Third Annual Boston Aviation Meet in Massachusetts. Something went wrong during the flight--no one has ever determined exactly what--and Harriet fell to her death.
Bessie Coleman was the twelfth of thirteen children, raised by a single mother in rural Texas. Always a hard worker, Bessie managed to graduate from high school and even enter college, while she did washing and ironing to help the family.
An avid reader, Bessie had read a lot about flying, and she wanted to fly herself. However, she was of mixed race. Her mother was black and her father was Native American and black, and discrimination was rampant at that time. Rather than give up, Bessie learned French so she could take flying lessons in Europe. In 1921, she earned her pilot's license in France. She was the only licensed black pilot at the time.
She returned the U.S. and toured the country as a barnstormer and stunt flyer. She hoped to earn enough money to open a flight school in her own country--a school that would accept blacks. She never achieved her goal, because she was thrown from an open cockpit during a test flight in Florida in 1926.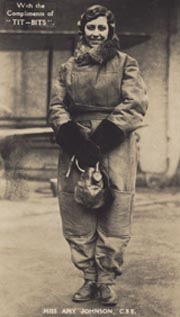 Born in 1903 in Yorkshire, Amy Johnson learned to fly during the 20s. A college graduate, Amy wanted to show that women were as competent as men. She began by becoming the first British female ground engineer and later decided she wanted to fly alone to Australia, breaking what was then the record of 16 days.
Johnson left England May 5, 1930, and landed in Australia on May 24. Although she had not broken the previous record, she had set a new one: she was the first woman to fly alone to Australia, a distance of 11,000 miles.
Later, she flew from England to Japan and then from England to Capetown, solo. World War II intervened, which put an end to her commercial flying. However, she continued to fly and worked ferrying military planes from their factories to various RAF bases. Sadly, she crashed and died on one such trip in January, 1941.
Go to main postcard page.
Return to home page.