Go to

Baseball

Basketball

Motorcycles

Pilots

Rodeo riders

Animal Tamers

They Started Young
Fearless women and women of spirit probably began life as fearless and spirited children. Real photo postcards have always shown children, but most are pictured in traditional poses. They're all dressed up for a formal photo. A few images, though, suggest that their subjects are likely to have interesting futures.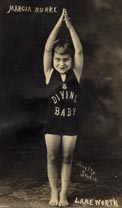 For example, take a look at Marcia Burke, the Diving Baby. She was one of many performers in 1921 at the Deep Eddy Resort in Austin Texas. Before she was six, she was diving into the pool there from a high tower. What do you suppose she did as an adult?
A generation of women who became cowgirls lived at an earlier time than the girls pictured here. But these girls, too, must have loved the old West, or their parents did. The picture on the left was taken in 1930. The one on the right appears to be from that decade as well. Do you suppose they got their outfits from the same supplier?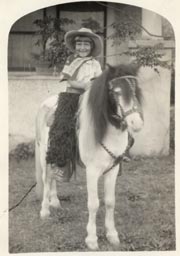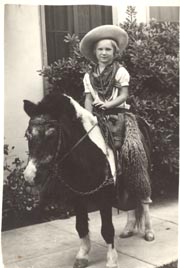 Active Girls: No Oxymoron
I used to think that young women of yore were discouraged from any form of athletics. I was wrong. Many girls enjoyed sports.
Despite her ribbons and curls, this girl is clearly a precursor to today's female athlete. I was surprised to discover that most of my antique books that offered advice to young women around 1900 encouraged them to be active. Perfect Womanhood for Maidens, Wives, and Mothers offered this advice:

Do not get the idea that men admire a weakly, puny, delicate, smallwaisted, languid doll-like creature, a libel on true womanhood. Girls admire men with broad chests, square shoulders, erect form, keen bright eyes, hard muscles, and undoubted vigor. Men also turn naturally to healthy, robust, well-developed girls....A good form, a sound mind, and a healthy body are within the reach of nine out of ten of our girls, by proper care and training.
Although I'm sure there were many young girls who just stayed at home and played with dolls, there were also others who were busy doing other things. Real photo postcards show that young girls were enjoying calisthenics, ball sports, fishing, and hunting. This young woman from Iowa, for instance, trapped 10 skunks in 1913. She earned $1.50 each.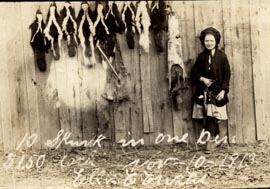 Email me
Go to main postcard page.
Return to home page.