Go to

Children

Basketball

Motorcycles

Pilots

Rodeo riders

Animal Tamers
Bloomer Girls and Beyond

Single-sex colleges deserve a lot of credit for encouraging women's sports. In 1866, despite a "censorious public," Vassar College created the first women's baseball team . Within a decade, in 1875, the first public game was held between two women's teams. To be honest, this was not truly a serious sporting competition. Instead, this first game was a form of entertainment organized by men. "The Blonds" played "The Brunettes."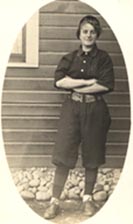 Still, baseball for women caught on. Early players took to the field in high-button shoes, high necklines, long skirts and long sleeves. No wonder Amelia Bloomer created the loose trousers that carried her name. Women athletes hurried right into them. The trousers gave their name to pioneer women's baseball players, who were called "Bloomer Girls."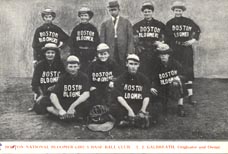 The Bloomer Girl teams existed for about 40 years. They didn't have set locations. Instead, they criss-crossed the country, setting up exhibition games and challenging men's amateur and semi-pro teams. Although billed as women's teams, they were actually mixed, since each team had at least one male player.
Lest any member of the audience get the wrong idea about the female players, they were advertised as being genuine "ladies." Their purity and good character was stressed. Actresses were barred.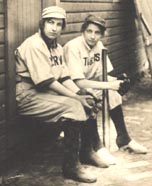 For a brief time, the nation had hundreds of these teams. New York had its Bloomer Girls, as did Boston, Philadelphia, Baltimore, and scores of other cities. At a time when most women's lives were limited, Bloomer Girls had the opportunity both to work and to travel.

The players ranged in age and skill. Edith Houghton was a shortstop at age 10; Jackie Mitchell was briefly signed onto a men's minor league team, where she pitched to Babe Ruth (and struck him out, the story goes); Maud Nelson started out as a pitcher and later became a manager for the Western Bloomer Girls.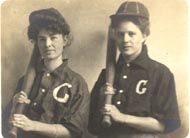 However, most of the early players are unknown today. That's partly because of the Depression. During that time, baseball lost its lustre and women's baseball went into a steep decline. The last Bloomer Girl club split up in 1934.
World War II saw a revival of the game. Many men had gone to war, so the All-American Girls Baseball League (AAGBL) was formed. This was the league featured in the film A League of Their Own.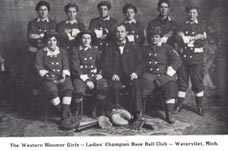 The AAGBL continued for twenty years. Then, for all intents and purposes, women's baseball went underground until 1994, when a group of women formed a team called the Colorado Silver Bullets . Like their earlier counterparts, they criss-crossed the country, playing men's teams and proving that gender does not determine what makes a sport exciting.

For two lively articles on the history of women's baseball, click here and here.

Email me



Go to main postcard page.
Return to home page.